The monoclonal antibody market is expected to reach $524.68 billion by 2030. This highlights the growing demand for monoclonal antibodies in biomedical research, diagnostics, and therapeutic development.
Monoclonal antibodies (mAbs) have revolutionized medicine by providing a powerful tool for diagnosing, treating, and preventing diseases. Their development has opened new avenues for research and led to the creation of highly targeted and effective treatments, improving the lives of millions worldwide.
ProSci is helping researchers make significant impacts by providing products and services to further discoveries in :
Biomedical Research

Excellent tools for applications ranging from western blot to immunohistochemistry to flow cytometry.

Monoclonal Antibody Drugs

Discovering effective treatment of diseases, including cancer, autoimmune diseases, and infectious diseases.
Generate antibodies for ADAs used in clinical trials for drug development.

Diagnostic Tests

Quick and accurate detection of human and animal diseases.
Antibodies against metabolytes for the detection of diseases.
ELISAs use monoclonal antibodies for diagnosis.

Vaccines

Used in the development of vaccines.
To learn more about Monoclonal Antibody Therapies, click here.
ProSci's Custom Monoclonal Antibody Services Provide the Tools You Need to Advance Your Research and Stay Ahead of the Competition.
Where we can help:
Tailored Solutions for your Unique Projects
Whether you need mAbs for research, diagnostics, or therapeutic applications, our services can provide solutions specifically designed to meet your needs. Our custom process also allows for flexibility throughout each development step, allowing custom options to be implemented based on our clients' needs.
Custom options include:
Antigen Design: ProSci offers custom antigen design as the first step in our mAb production process.
Hybridoma Development: Our team of experts specializes in hybridoma technologies and has developed techniques to ensure high fusion success rates and stable cell lines.
ELISA Screening: Our company conducts ELISA testing of serum during the mAb development process to screen for positive clones. We also provide options for clients to conduct ELISA screenings in their lab and additional ELISA screening.
Fusion and Subcloning: ProSci includes fusion and subcloning steps in their custom mAb development process.
Isotyping of Final Clones: We perform isotyping on the final mAb clones.
Expertise in Antibody Development
Our Monoclonal Antibody Team are expert in developing and producing antibodies using hybridoma technologies, ensuring specificity and reproducibility. Our team has extensive experience in the production of mAbs, providing our customers with the technical expertise and assistance they need to accomplish their projects. With a fusion success rate of over 98%, you can have confidence that ProSci will develop an antibody for your project.
Quality and Consistency for Reliable Results
The quality and consistency of mAbs are critical for reproducible results. With ProSci's Custom Monoclonal Antibody Services, our step-by-step process includes careful screening throughout the mAb development process. We guarantee stable cell lines with ELISA-positive clones and careful screening throughout the development process, ensuring the quality of the final product.
Comprehensive Service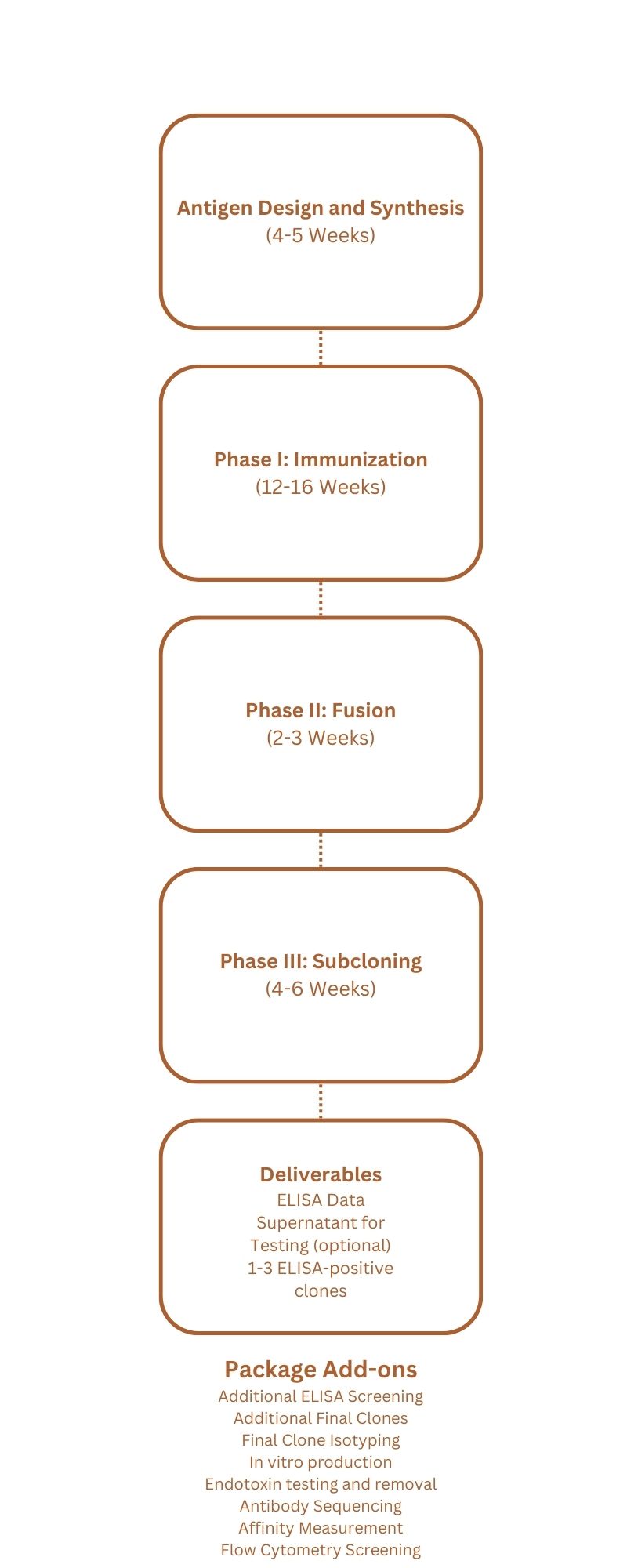 At ProSci, we understand the importance of a complete and comprehensive service in developing monoclonal antibodies (mAbs). That's why our custom process covers all steps, from antigen design to the isotyping of final clones. Our step-by-step approach ensures that each process phase is handled with care and expertise.
By providing a comprehensive service, we eliminate the hassle of developing mAbs for our clients.
When to Choose a Monoclonal Antibody
To achieve reliable and reproducible results, it is essential to have high-quality and consistent mAbs. There are several factors to consider when choosing a monoclonal antibody over a polyclonal antibody or recombinant antibody, including:
Post-translational modifications: Glycosylation events and other (PTMs) can impact the antibody's activity and specificity, so it's essential to consider this when choosing an antibody for your research or application. At ProSci, we implement quality control measures and testing to ensure that the proteins produced are pure and unmodified.
Target specificity: Monoclonal antibodies are particular to a single epitope, making them ideal for identifying a specific protein target.
Consistency: Monoclonal antibodies are produced from a single-cell clone, ensuring consistent quality and batch-to-batch reproducibility.
Production Scale: Monoclonal antibodies can be produced in large quantities using various production methods, making them ideal for high-throughput applications
Purpose: Monoclonal antibodies are commonly used for basic research, bioprocessing, diagnostic and therapeutic applications.
For more information on our Custom Monoclonal Antibody Services, click here.
Looking for off-the-shelf solutions? Browse our catalog of monoclonal antibodies and research-use biosimilars.
References
Monoclonal antibody development – process & information. ProSci. (2021, March 3). Retrieved February 7, 2023, from https://prosci-services.com/monoclonal-antibody-development/
Monoclonal Antibody Services – Development & Production. ProSci. (2022, November 29). Retrieved January 31, 2023, from https://prosci-services.com/monoclonal-antibody-services/
Nelson, P. N., Reynolds, G. M., Waldron, E. E., Ward, E., Giannopoulos, K., & Murray, P. G. (2000). Monoclonal antibodies. Molecular pathology : MP, 53(3), 111–117. https://doi.org/10.1136/mp.53.3.111
Precedence Research. (2022, May 23). Monoclonal antibodies market size to hit US$ 524.68 bn by 2030. GlobeNewswire News Room. Retrieved February 7, 2023, from https://www.globenewswire.com/news-release/2022/05/23/2448585/0/en/Monoclonal-Antibodies-Market-Size-to-Hit-US-524-68-Bn-By-2030.html
The Role of Monoclonal Antibodies & Biosimilars in Research. ProSci Incorporated. (2022, October 28). Retrieved February 7, 2023, from https://www.prosci-inc.com/blog/monoclonal-antibodies-biosimilars-in-research/